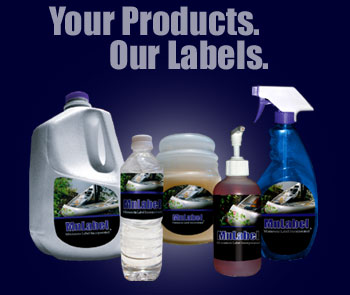 A wide range of uses: Mailing Labels, Bottle Labels, Food Package Labels, Bumper Stickers, Heavy-Duty Labels, etc.
How can you use labels and stickers in your business?
Labels are used in many ways. They may be used to convey a brand, or a message, or to identify an item or make sure it gets to the right place. You might not think about all the ways labels can work for you—but we have.

Minnesota Label is dedicated to making the labels you need with superior attention to quality and at a competitive price. We match the material and adhesive combination to fit your project's needs. Pressure sensitive material that is backed with adhesive to form a tight bond with whatever you decide to put it on (adhesives of differing strength can be used for different applications) for example: containers, packaging, envelopes or anywhere. We print and produce multiple die-cut shapes, pin-feed, perforations, scores, and butt cuts in-line. Finished projects can either be supplied in rolls or sheets.
Frequently used Materials:
White Gloss/Matte
Fluorescent Matte
Clear/White Polypropylene
Silver Foil/Gold Foil
Thermal Transfer
Piggyback
Prismatic
Kimdura Vinyl
Static Cling
Silver Polyester (Bright/Dull)
Pin-feed Labels
Tamper-Proof Silver
Polyester
Etc…